Shout outs to Kyle Cucco (and Josh Healey) for reminding me that I have this, here is a few of the projects I've been working on in the past couple months. I made this coat rack out of salvaged board and insulators for my friends as a wedding present:

and here it is in use in their apartment: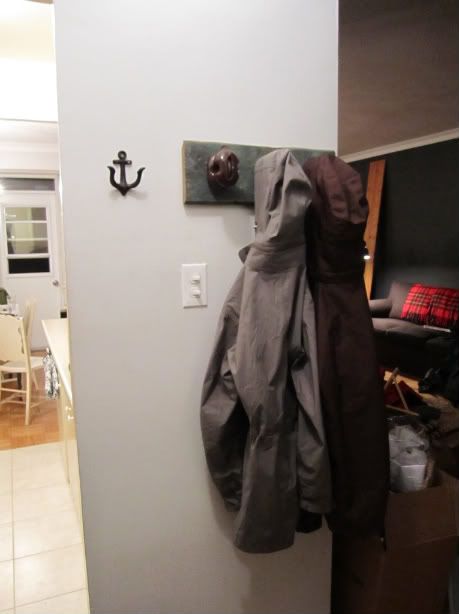 Here are a couple items modeled off of things which I liked but don't have the funds/patience for, a key-hook (made out of a part of a belt buckle) and a
triangle change wallet
(made out of leather that was going to get tossed at work). (Lighter shown for size comparison):
One of the major presents I gave for Christmas was a set of 5 tea blends I made which I made from scratch essentially and sewed up bags for, one design for each of the 5 flavours with braided strings and fabric tags etc etc. I basically wanted to do the whole home made tea thing on a big scale with a lot of customization. Here is a picture of the ingredients that went into the Masala Chai blend and one of the teabag styles I did: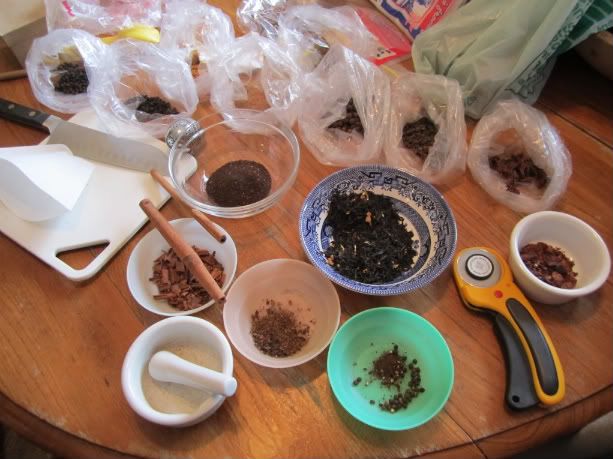 Not an overly serious update but still some (I hope) moderately interesting content. There are many more projects underway and more posts to come.